Black★Rock-chan
(ぶらっく★ろっくちゃん) is a 4-koma series which features both a super-deformed version of
Black★Rock Shooter
and her antics with Dead Master. It has been released on the same day as the browser-based game
Puchitto Rock Shooter
and is launched in the inaugural issue of the
4-Koma Nano Ace
magazine published by Kadokawa Shoten.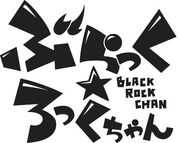 The Otherworld is considered to be a unusual place where battle never ceases. Among the inhabitants of the Otherworld are two beings: one who wishes to destroy the balance, and the one who strives to protect it.
However, on this side of the Otherworld, things are different.
Black★Rock-chan focuses on an unusual relationship between Rock-chan, the protector of the balance of the Otherworld, and De-chan, her presumed nemesis-turned-babysitter.
Characters
Edit
Ad blocker interference detected!
Wikia is a free-to-use site that makes money from advertising. We have a modified experience for viewers using ad blockers

Wikia is not accessible if you've made further modifications. Remove the custom ad blocker rule(s) and the page will load as expected.