This article is about the character. For the weapon used by Dead Master, see Dead Scythe.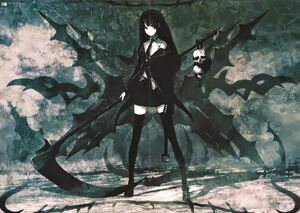 Death Scythe (not to be confused with Dead Scythe) is part of the supporting cast in huke's Black★Rock Shooter. She does not appear in the OVA. It is possible that she was found fighting Strength in the TV animation in Yuu's story that she was telling to Mato while she was stuck inside Insane Black Rock Shooter.
Appearance
Edit
Death Scythe is a girl with long, jet-black hair and grey eyes. Her outfit is split between black and white, with no other dominating or accentuating colors present. She wears a white collared dress shirt underneath a short, black trench coat, as well as black thigh-high stockings and black shoes. Her weapon is a plain black scythe with a few skulls dangling from the end of the handle.