The Star-shaped strap (星型ストラップ) is a cell phone strap (携帯ストラップ keitai strap) that is seen on Mato's phone, this star charm is a part of Mato's fondness for star-themed items. When Mato develops a friendship with Takanashi Yomi, the girls hang out with one another and go shopping. At a small shop Mato looks at the phone strap display and smiles. It is later revealed at a meeting place (Mato's favorite spot) that she bought a gift for Yomi which is a phone strap similar to her own. Mato stated that she thought Yomi's phone looked lonely, Yomi is overjoyed and tells her friend that she will take good care of it.
Later Yomi is discovered to be missing, Mato waits for any indication of Yomi and keeps her cell phone by her side. During the early morning a call is received, the text shows that it is from Yomi and Mato has the urge to head to the meeting place possibly believing Yomi will be there, but she only finds the phone strap she had given to her, she holds it to her chest and a bright light surrounds her.
Appearance
Edit
Mato's version (星型ストラップ/マトver.)

The star charm hangs from the split ring and a thick blue strap rope at its bottom, its color is a light blue.

Yomi's version (星型ストラップ/ヨミver.)

The star charm hangs from the split ring and separate from the blue strap chain, its color is dark blue.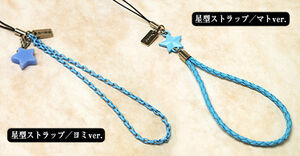 Ad blocker interference detected!
Wikia is a free-to-use site that makes money from advertising. We have a modified experience for viewers using ad blockers

Wikia is not accessible if you've made further modifications. Remove the custom ad blocker rule(s) and the page will load as expected.